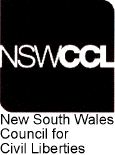 Fri Sep 17 2010
NSW Council for Civil Liberties invites members to the annual John Marsden Lecture on Tuesday, 9 November, 2010 commencing at 6:30pm at the Grand Lodge Room, Sydney Masonic Centre, 66 Goulburn Street. Professor Jenni Millbank will speak on "Surrogacy, Reproductive Coalitions and Outsourcing Exploitation".
The lecture is named after John Marsden, who was a long serving President of the NSW Council for Civil Liberties, President of the NSW Law Society and champion of law reform for sexual minorities.
The event is free, however please RSVP to: Office@nswccl.org.au or phone 02 92863767.
22 October 2010
Contact InBrief
Return