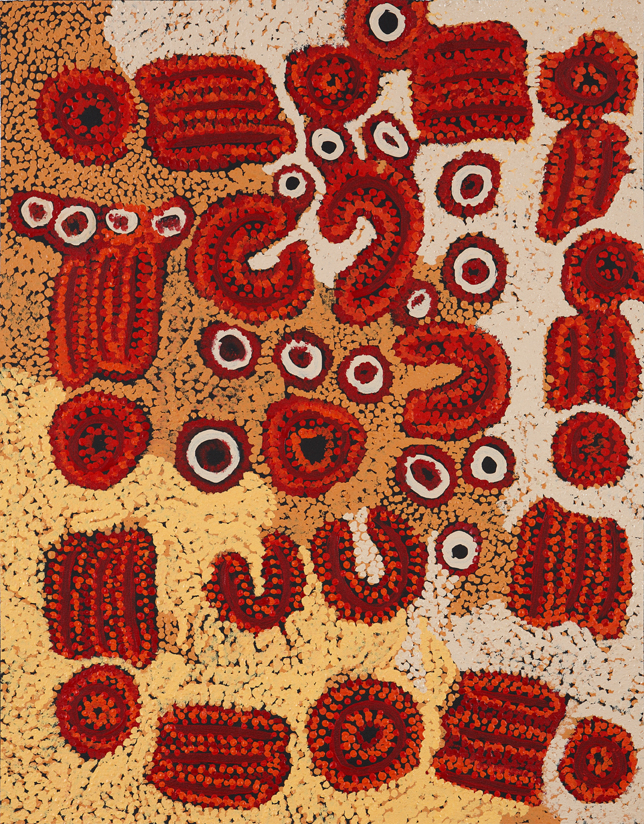 Fri May 21 2010
Last chance to purchase tickets in the Indigenous Barristers Trust raffle of an original indigenous artwork - 'Pukara' by Iyawi Wikilyiri.� Tickets are $10 each and must be purchased before 4pm today. An image of the painting is attached. The original is on display in the reception area of the Bar Association. The raffle will be drawn tonight by one of the Trustees.� The winner will be announced in InBrief tomorrow.� To purchase tickets, click here.
More about the work: it measures 920mm x 715mm and is acrylic on canvas.� The work comes from the Tjungu Palya arts centre (Nyapari, APY Lands, South Australia).� It is valued at approximately $2000 and a certificate of authenticity is available.
More about the artist: Iyawi Wikilyiri was born in the bush near Ernabella around 1945. Iyawi's mother was a Yankunytjatjara woman from Ernabella and her father was a Ptjantjatjara man from Pukura. Iyawi paints Pukura which is her father's country and where she spent a lot of her childhood.
2 June 2010
Contact InBrief
Return